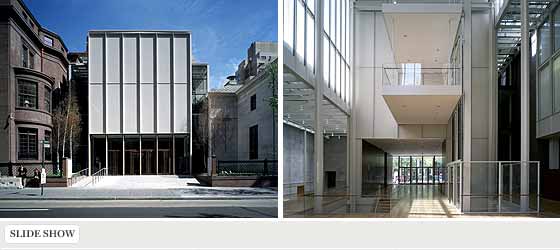 Inner Beauty: Renzo Piano's Morgan Library looks blah from the street—but it may be the city's only walk-in reliquary.
By Mark Stevens
From the outside, Piano's design is undistinguished; the exterior rosy-white grid through which visitors will enter looks dull and vacant when compared with the richly nuanced brown and gray stones of the earlier buildings on either side. But his glassy interior, at once intimate and expansive, is marvelously scaled—just right for examining small things of great value. An ideal setting for the Morgan's jewels.
Renzo Piano's Expansion of the Morgan Library Transforms a World of Robber Barons and Scholars
By Nicolai Ouroussoff
His dazzling expansion of the Morgan Library and Museum collection, which opens to the public on April 29, may either stoke that envy or forever put it to rest. A sublime expression of the architect's preoccupation with light, the design transforms the world of robber barons and dust-coated scholars conjured by the old Morgan into a taut architectural composition bursting with civic hope.