The magic of Grace Farms
By Gwendolyn Horton
The first thing I notice at Grace Farms is that nobody is looking down at their phone. Instead, people are engaged – with each other and with this place – and the pace is slow.
The most beautiful building in every state
By Jacob Shamsian
The United States has produced some really cool buildings, and we've found the coolest building in each state.
Defining "coolest" is hard. We evaluated every state on its own terms, and we've found that the architecture across all 50 is as diverse as its population.
2016 Building of the Year > East: Grace Farms by SANAA
By The Editors
The River, SANAA's undulating creation for Grace Farms, seeks to marry the nature of its 80-acre New England estate with architecture in an effort to foster the formation of intentional communities that collaborate for good.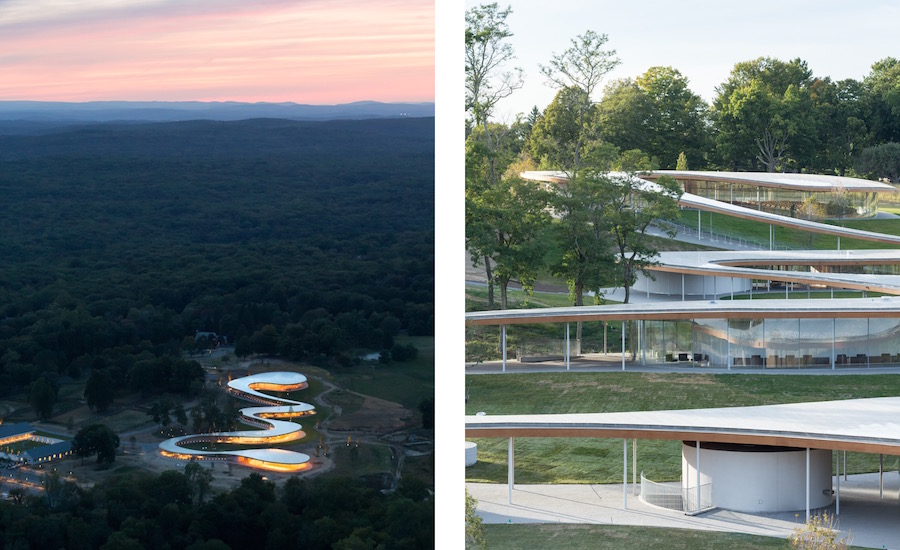 Grace Farms by SANAA Wins Mies Crown Hall Americas Prize
By Miriam Sitz
Grace Farms--aproject of the Pritzker Prize-winning firm SANAA--was honored with the 2014/2015 Mies Crown Hall Americas Prize (MCHAP).
Meet the Developer Behind the Best Architecture of Our Time
By Paul Clemence
Andy Klemmer has been behind the scenes for decades, connecting clients to some of the most important pieces of architecture of our time.
Connecticut is a hotbed of fascinating architecture
By Hana R. Alberts
For design with a dose of springtime sun, head to Grace Farms — a New Canaan community center with 80 acres of outdoor space that opened its doors last October.
'Sejima lit up when we said we wanted Grace Farms to disappear into the landscape'
By Joseph Giovannini
Charged with keeping the land openand protected for the benefit of the larger community and the local Grace Community Church, the Foundation presented a programme for a building based on itsmission – a place where visitors and congregants could 'experience nature, encounter the arts, pursue justice, foster community and explore faith'.
The Spiritual and Spectacular Meet at an Ultramodern Community Center in Connecticut
By Ted Loos
A group of friends and neighbors thought that this area could use a new community center with a spiritual underpinning.
So they built one.
At Grace Farms, Encountering Art at Every Bend
By Susan Hodara
The art that visitors will encounter at Grace Farms begins with architecture: an astonishing, 83,000-square foot, zigzagging structure of five glass-enclosed indoor spaces linked by covered outdoor walkways, called the River.
 
Rolling on the River: A ribbon of glass, steel, and wood floats through a hilly landscape, serving a nonprofit foundation dedicated to bringing people closer to art, nature, and faith.
By Naomi R. Pollock
Some buildings are sympathetic to nature. Others are open to nature. But the River, the latest project from SANAA, is practically a part of nature.